Little Miss Sunshine
Year of Release : 2006 Duration: 1 hour 41 minutes (101 minutes) Genre: Comedy
Language : English Rate R: For Language|Drug Content|Some Sex
Little Miss Sunshine - A family on the verge of a breakdown!
"This sweet, tart and smart satire about a family of losers in a world obsessed with winning is an authentic crowd pleaser. There's been no more satisfying American comedy this year."
- David Ansen
Newsweek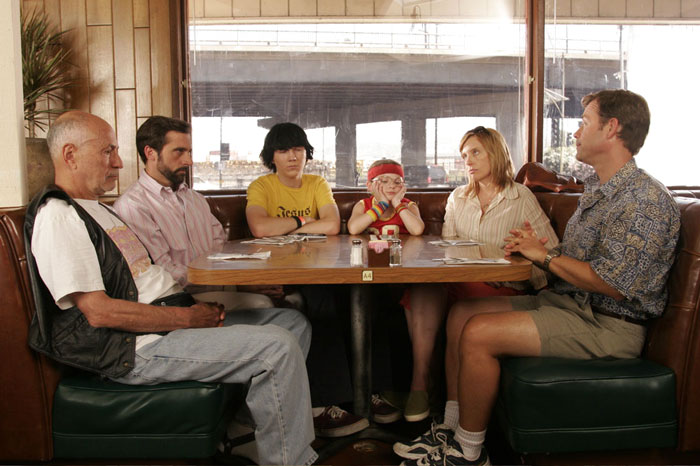 Little Miss Sunshine (2006)
Directed by the husband and wife team of Jonathan Dayton and Valerie Faris and centered on a dysfunctional family, this is a comedy drama.
Considering its "R" rating, it is not intended for kids. The 'road film' is about a little girl, who wants to become a winner in a popularly contested beauty pageant.
The chubby 8-year-old Olive Hoover (Abigail Breslin) is born in a family, comprising of several odd characters. Her mother Sheryl Hoover (Toni Collette), who prefers others to be honest but she is a habitual liar. Olive's father Richard Hoover (Greg Kinnear) is a motivational speaker but hardly has any faithful audience to follow him. A literature-scholar and homosexual Frank (Steve Carrell) is her maternal uncle who is just recovered from his suicide attempt. Her 'silent' brother Dwayne (Paul Dano) vows not to speak with others till he gets admission in the Air Force Academy. Not enough, she also has a foul-mouthed, heroine-addicted Grandpa Edwin Hoover (Alan Arkin). When she gets a call to participate in the forthcoming beauty pageant at California, the whole family decides to help her. Due to lack of financial resources, the Hoovers decide to undertake the 800-mile journey in their trouble-making, age-old Volkswagen Bus. Filled with the mismatched set of individuals, the chaotic journey starts and progresses inch-by-inch towards the destination…
Nominated for 4 categories, the movie won 2 Oscars.
The pragmatic performances of artistes—cute young girl Abigail Breslin to unforgettable old man Alan Arkin—made all the difference.
Bringing out the varied aspects of human emotions with sarcastic wit, Michael Arndt's Oscar-winning screenplay is refreshingly original.
Initially there were no takers for this idea. This low-budget movie took five years to make, mostly due to financial reasons.
After its release, the movie rewrote the box-office record. A movie with a modest budget of $ 8 million dollars crossed $ 100 million dollars collections!
Keeping the eternal losers at forefront, this mocking comedy triumphantly stamps its message 'wining is not everything in life.'
By
Srini