I've been working with Publiq, a platform for journalists, bloggers and communicators, for about a month.
Above all, I've been amazed at how easy it is to use and how quickly profits are generated, and if you do it well, and reinvest what you earn, your balance multiplies quickly.
Publiq wants to value the content of journalists
There are already some similar platforms, the best known, at least for me is Steemit, I did my pinitos on this site, but I did not get many benefits.
With Publiq it's totally different, maybe it's because I arrived at the right moment, and they just launched their mainnet, that is, their official platform.
The point is that I started there is very little, testing your testnet, ie the testing platform and I loved it.
On the one hand, how easy it is to register, on the other, the security it provides thanks to the blockchain and the system it uses to protect your wallet.
How to start with Publiq?
Free registration

Through the following link you will be able to register and start publishing your first stories.
Enter in: Publiq.Network and click on STAR YOUR HISTORY.
Registro en la MainNet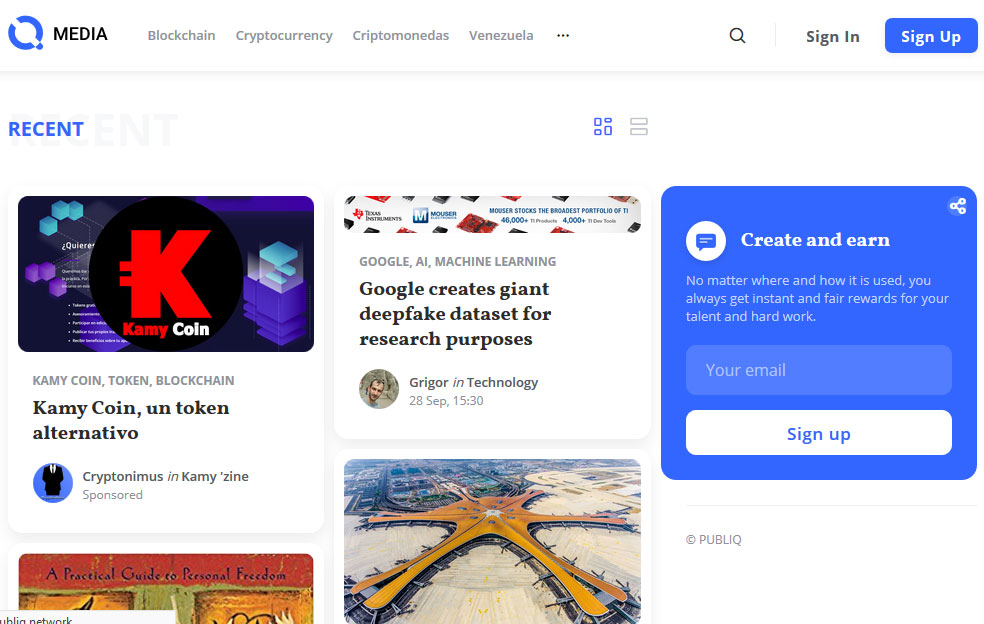 As soon as you enter you will see a very simple home page of a kind of newspaper or magazine. You have the cover with the highlighted or sponsored articles, in this case, the first one is mine. A story I just published about my Kamy Coin token. Inside my magazine Kamy 'zine, I will explain how it all works.
On the right side, you have a blue box that says "Create and earn". And it's that simple. Type your email and click Sing up.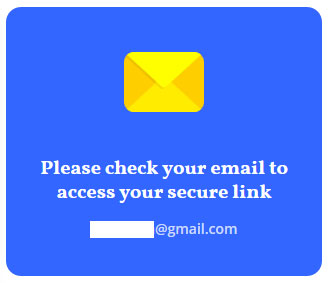 They'll send you an email to confirm that it belongs to you.
Create the web Wallet for your PBQ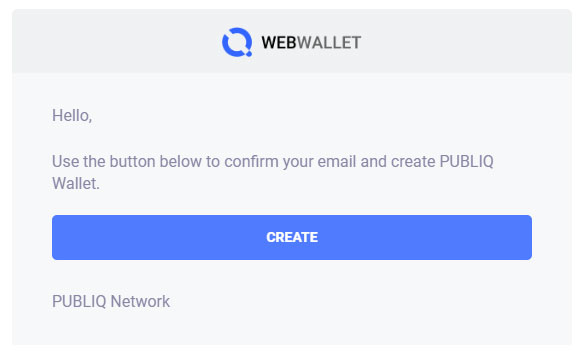 This is the email you will receive, and as you see in the header WEBWALLET appears, that means that when you click on CREATE, you will be taken to the wallet where your coins or PBQ tokens will be stored.
So pay close attention to this step and save all the information, because that will depend on your balance and whether or not you can convert it into other crypto currencies, Bitcoin, for example and then into FIAT money, Euros, Dollars or the currency of your country.
Publiq Password
Once you click CREATE, the following window will appear: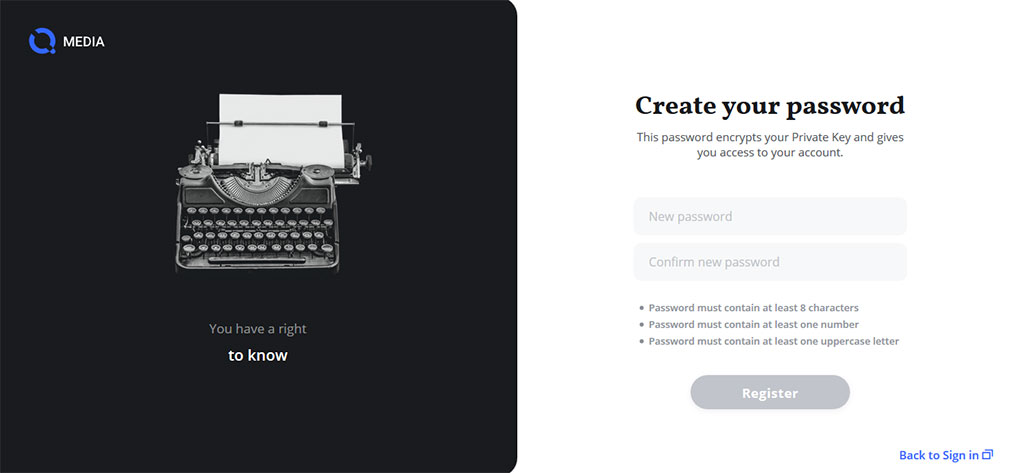 Use a complex password, to avoid being hacked
Here you must create the password that will give you access to the MEDIA platform and also to your wallet, where you will be publishing your contents, here they are called stories. Remember to keep it in a safe place. It must contain a minimum of 8 characters, some numbers and some capital letters. I also advise you to use some symbols, such as /&%$.
Use a complex password, to avoid being hacked
Recovery Phase
If you are familiar with crypto currencies, and have created a wallet before, this will be familiar to you. Otherwise, don't worry, it's very easy and you just have to follow the steps of this process.
This window will appear once you have created your password: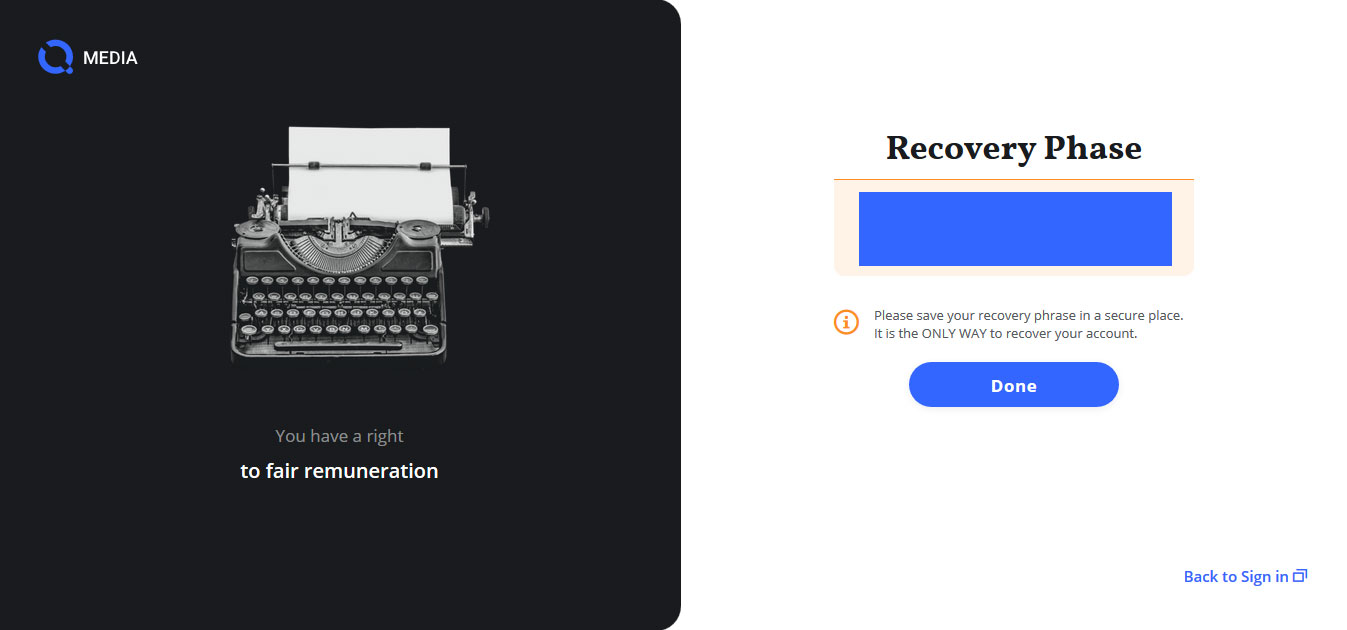 This is a list of words in a certain order, which you must always respect if you want to recover your wallet in case of loss or want to install it on another device.
Write down those words, in that order in a safe place, will be the only way to recover your wallet and your balance if something happens or you have to change your device.
Review them, take your time and once you are sure you have copied it well, click on Done.
First history, first PBQ

By clicking on Star Now, you'll be starting your own newspaper or blog. And it will give way to the creation of your first story.
First story in Publiq
Three easy steps to create content in Publiq.
Write a title that will be the headline of your news or publication.
The story, here publications, articles or post are called stories. Within a story you can include subtitles (H2, H3,...), links, write in bold or italics, make lists, center, or include images and videos.
Once your story is created, you must move on to the next step by clicking on the blue button at the bottom right.
Layout the contents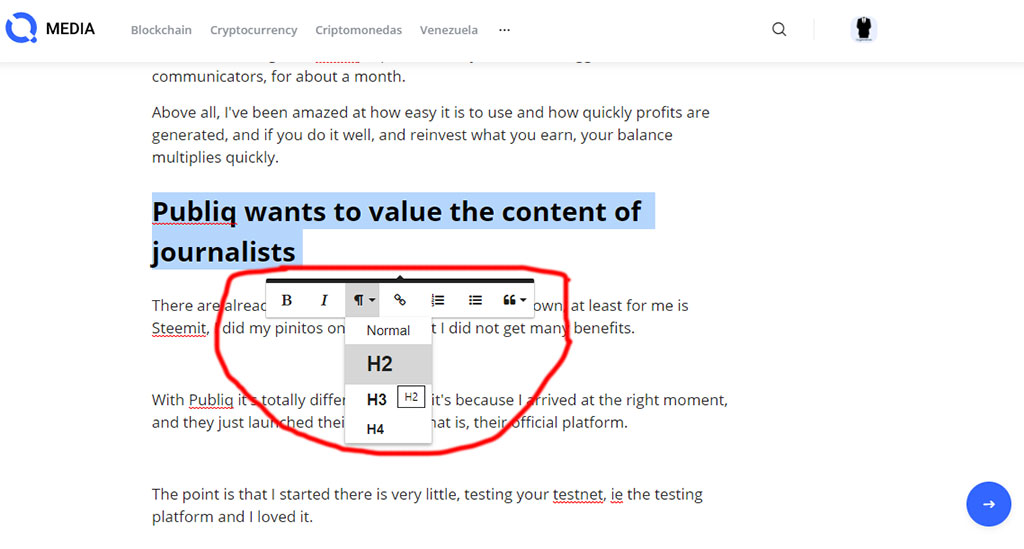 When you are typing you can select any text and a pop-up menu will appear with all the tools you can use:
B - Bold.
I - Write in italics.
¶ - Change the header type to H2, H3 or H4.
Links, if you want to share a link.
Lists, numbered or unnumbered.
Highlights, or quotes, if you want to highlight a part or quote a text of another person.
You can also include videos or photos. If you have the image in the clipboard or the link to the video. just press intro and CTRL-V or right button paste.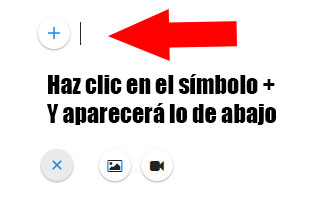 You can click on the + symbol and two new buttons will appear to add images from your computer or to publish videos from a link.
Once you have finished writing and layout all your content click on the blue button at the bottom right to continue with the publication.
It has an auto-save system, so you don't have to worry about saving, it does it automatically.
Finish the publication and make it public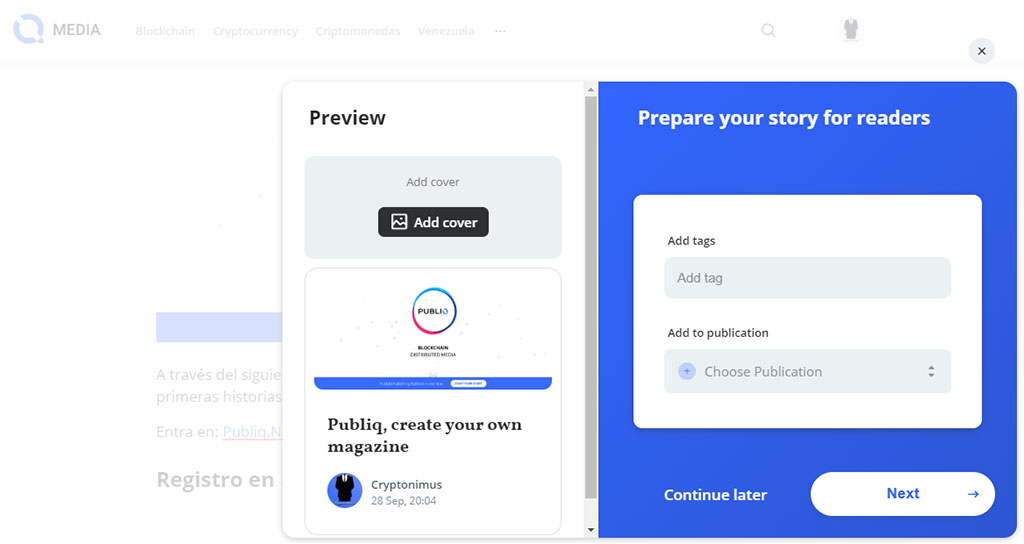 Once you click on the next button, this pop-up window will appear where you can.
Add a header image and tags that define what you have talked about in your story. For example if you have talked about Publiq, you can tag it as "publiq", "blockchain", "PBQ", journalists.
You can continue or leave it for later. Click Next.
Last step, publish your story in Publiq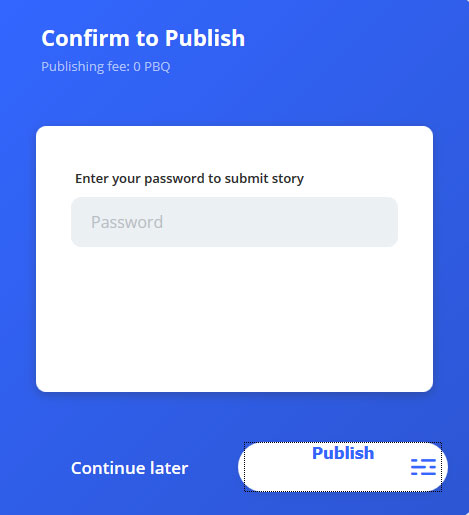 In this last window you have more information and a few steps to make your story is published.
You will see that under Confirm to publish, you will see what the PBQ publication will cost you. In this case. Publish fee, publication commission 0 PBQ. That is to say, your first publication is free, but the rest of the publications will cost you some of the PBQs you have won with this first story.
You must enter your password to verify that it is you and that you agree with the next step.
Click on Publish and you will have your first story.
User Profile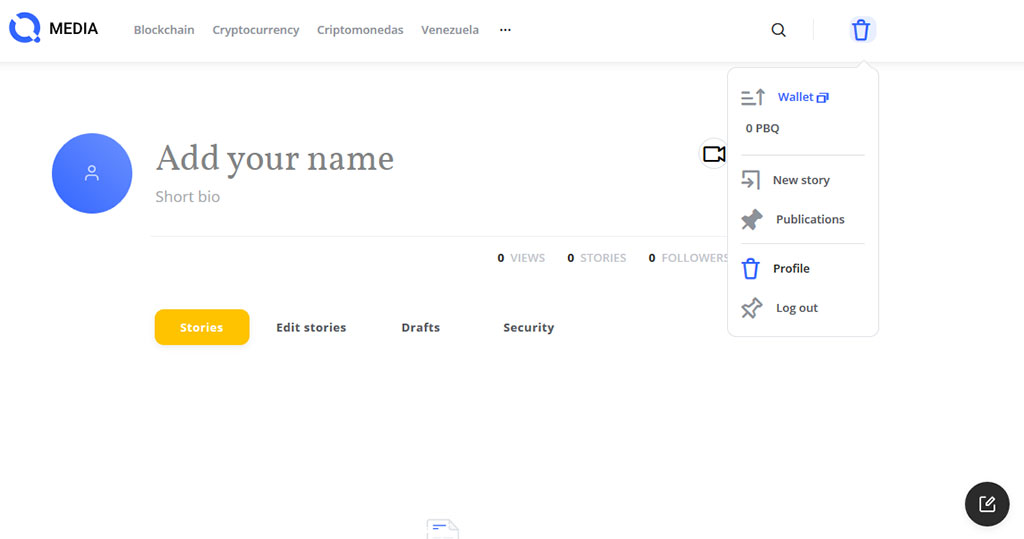 We will edit and customize the user profile within Publiq.
The first thing is to open the menu that appears under the top left icon, at the beginning appears the one of a trash, but calm, that you are not going to erase anything.
You will find the following sections:
Web wallet PBQ
Wallet, is the direct access to your PBQ wallet, where you can track your earned coins, and where you can copy your public address to send to people who want to send you PBQ.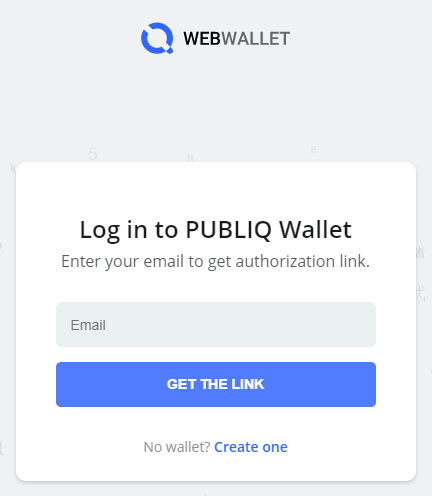 The system is very secure, because every time you want to access your wallet from the profile you will have to give your registration email, and you will receive a unique link to access. This way, even if you leave your profile open on a computer, if they don't have access to your email, nobody will be able to steal your crypto coins.
Once you click on the link in your email. It will ask you to enter your password and you will be able to access your wallet.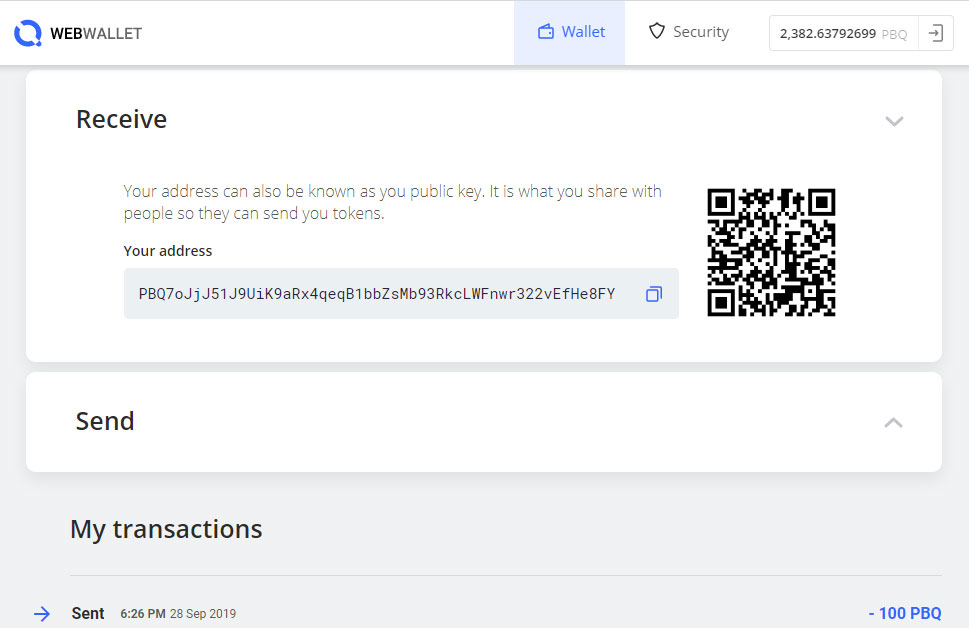 You can see your balance at the top left.
In Receive you have the public address of your wallet, which you have to share so that they can send you PBQ.
And underneath are Send which allows you to send PBQ to another person or to an exchange. Right now you can trade with Publiq on ATAIX. This means that you can now convert your profits into Bitcoin and from there into FIAT money.
And in transactions you can check the movements of your account, both incoming and outgoing.
By the way if you like this guide and want to make a donation, my PBQ wallet address is:
PBQ7oJjJ51J9UiK9aRx4qeqB1bbZsMb93RkcLWFnwr322vEfHe8FY
New story
This is the link to create a new story, as I said before, here are called stories to any publication, post, article, news.
Publications
In this case the publications can be compared with the categories of a blog, in case you want to use this space as a blogger. This way you can create as many publications as you need categories.
On the other hand we can also create publications such as different magazines, for example to publish about cryptomedas, or to publish about music. This way you will have 2 spaces where you can separate each type of story.
It's very simple, you just have to give it a name and a header image.
Profile
Here you have your data, name or nick with which you will sign your stories.
You can add a profile image that will also appear in all your publications.
You can also publish a short biography about yourself so that potential followers or readers know more about your life or work.
You can also have information about the visits you have received, the stories you have published and the followers.
Stories: A list of your published stories.
Edit stories: If you need to edit or correct something of your stories you can do it as many times as you need.
Draft: These are stories that are in draft mode, i.e. not yet published. You have a list where you can edit and publish them.
Security: Configure the security of your profile.
Log out
The last section of your profile menu to safely exit the platform.
Exchanges for Publiq (PBQ)
At the moment there is an exchange that accepts PBQ and where you can exchange them for BTC.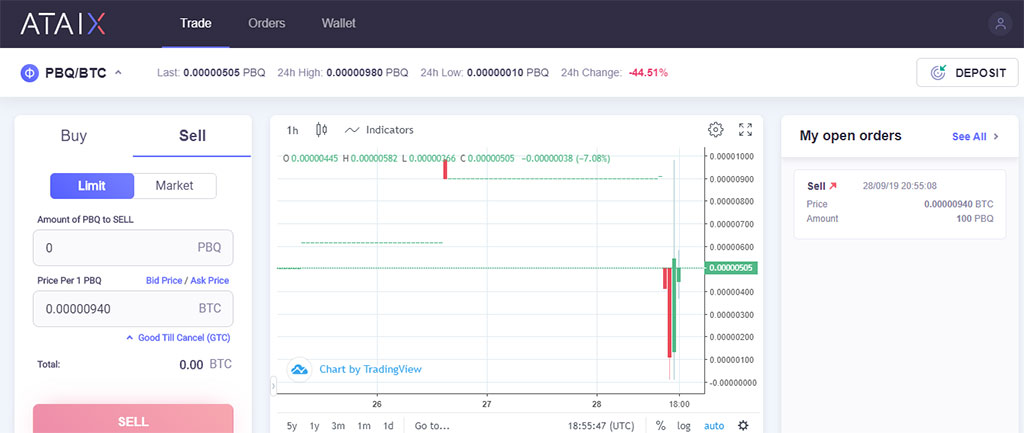 The price is around 500 satoshis. I have sent my first 100 PBQ and I have them for sale, in case of selling them at that price would be: 0.00053 BTC, about 4.30 dollars (at the price of Bitcoin at the time we are publishing this article). Those are the earnings with 5 articles published in 2 days.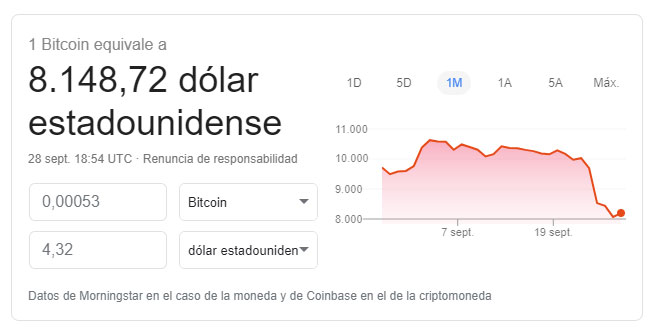 Recommendations
Publish as soon as you can and do it on a regular basis, you will see how your balance does not stop growing.
Once you reach your first 50 PBQ, don't hesitate and promote your next story. The price to put it on the cover is 50 PBQ, but you'll see that your balance multiplies by 5 in a few hours.
It's worth sponsoring stories, I repeat, do it, don't hesitate! Above you can see my balance in 4 days that I've been publishing.
Second recommendation and not less important, if you want to change your PBQ for BTC, you can do it, you are in your right, but do not lower the prices of the exchange, try to sell as high as possible, now that we are beginning there will be much interest in buying, so if you really value your work as editor or journalist, do not lower the price in the exchange, so you can receive the highest possible reward for each PBQ.
It is useless to create a space like this specialized in journalism to value our work; if we lower the prices and in the end we are still precarious.
My author profile in Publiq
This is my main profile, don't hesitate to follow me. Thank you.
And these are my two publications:
Cryptonimus: About crypto coins, blockchain, tokens, etc...
Kamy 'zine: About music, poetry, opinion articles, reviews, interviews.