No Country for Old Men – There Are No Clean Getaways
Year of Release : 2007 Duration : 122 minutes (2 hours 2 minutes)
Rated : R (Strong Graphic Violence / Some Language) Genre : Crime, Mystery, Thriller Language : English (Hollywood)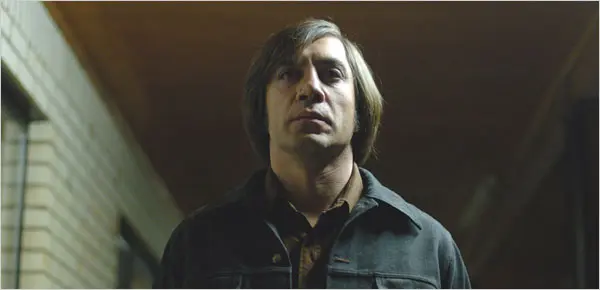 "The most measured, classical film of their (Coen Brothers) 23-year career, and maybe the best."
-Scott Foundas
Village Voice
Adapted from the Cormac McCarthy novel of the same name, this is a suspenseful crime thriller.
Coen Brothers, who made hugely popular films like "Blood Simple" and "Fargo"
created this deeply disturbing drama.
Set in 80's at Western Texas, the story revolves around three main characters whose lives intersect in an unusual way.
Near to his remote Texas county, Llewlyn Moss (Josh Brolin) finds $ 2 million and a pile of corpses that evidently indicates a drug deal gone wrong. No one is around in the vicinity of that vast landscape, he takes the money, unaware of the forthcoming danger. The danger comes in the form of a psychopathic killer Anton Chigurh (Javier Bardem), who randomly picks his victims and kills them. On his way to find the cash, the psychopath relentlessly chases Llewlyn Moss and leaves a trail of bodies along the path. When the Sheriff of the county Ed Tom Bell (Tommy Lee Jones) comes to know about the gory bloodbath, he tries to catch both to stop the menace. But the cat and mouse chase continues between the killer and Llewlyn Moss, leading the events to the blood-stained climax…
Nominated for 8 categories, No Conuntry for Old Men grabbed 4 Oscars.
Out of its 4 nominations, it also won 2 Golden Globes.
All the three leading artistes impeccably shines in their well-etched roles and the standout performer is the Oscar-winning Spanish Superstar Javier Bardem.
The weapon used by Anton Chigurh is a captive bolt pistol. It is most widely used in the slaughter of cattle to stun the animals before they are butchered.
The scenes are reproduced in the same order as it is from the novel. Bell's final speech in the film, for instance, can be read on the final page of the book!
Wonderful cinematography, taut editing and the finest sound effects adds enormous depth, making this is one of the visually striking films as well.
Maintaining the eerie silence and heartpounding moments at once, this edge-of-the-seat thriller gets a resounding applause from the moviegoers and critics.
By
Srini