"Sadiq Khan and Boris Johnson need to go watch this," says Tyrone Harriett, a youth worker from south London, of Blue Story, the film which sparked controversy this week after Vue and Showcase Cinemas pulled it following a mass brawl in Birmingham.
The move led to accusations of "institutional racism", "negative bias" and "a systematic and targeted attack".
Both cinema chains have since resumed screenings after the outcry.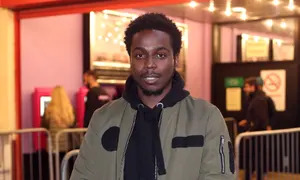 Facebook Twitter
Pinterest
Tyrone Harriett, a youth worker from Peckham, described Vue's ban as ridiculous. Photograph: Susannah Ireland/The Guardian
Outside PeckhamPlex in south London, where the film is set, many leaving the 6.30pm viewing on Thursday, are – like Harriett – bemused by the decision to ban Blue Story, with the film drawing applause from cinema-goers.
Advertisement
"The film is a good insight to bring people who are from the area to relate to and also people who are not from the area who don't really understand it. Lots of people have opinions from an outside view and a lot of surface level understanding of what goes on, so this is a big insight to show what it is like and how young people can get coerced into violence and crime," he says.
Cinemagoers say the film – a story of two friends who get caught up in gangs from rival postcodes – is vitally important in depicting some of the issues that are affecting London. The number of teenagers stabbed to death in the capital has reached its highest level since 2008.
Harriett, who brought some of the young people he works with to see the show, says the move by Vue was "ridiculous".
Tim Richards, the founder and chief executive of Vue International, has said the company "agonised" over the decision to pull the film, but had to prioritise the safety of staff and customers. Richards said he knew Blue Story was "an important movie" and that he had never wanted to withdraw it.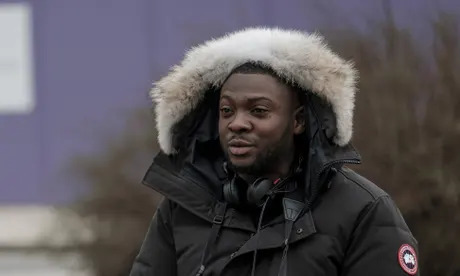 Blue Story director questions motives behind Vue's cancelled screenings
Read more
Amid all the controversy, focus has shifted away from the issues the film's director, (AKA Rapman) shines a light on. Harriett says a lack of "education, resources and funding" are driving youth violence. He says the problem needs to be tackled in a holistic way, starting with communities, families and schools. "That is where the work starts … intervention needs to happen at an early stage, from primary school."
One of the young people he works with, Cairo Arif, 19, says the film did a good job of showing "what was happening in the area".
Advertisement
"I don't think it glamorises violence. It does happen. There are people with knives and in gangs. But you don't hear about it in the media, it is not being shown, so people seeing it for the first time, of course, will say it glamorises violence but it is actually going on."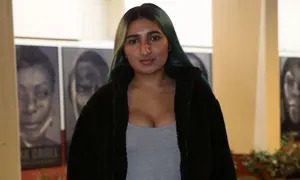 Facebook Twitter
Pinterest
Cairo Arif said she thought Blue Story showed 'what was happening in the area'. Photograph: Susannah Ireland/The Guardian
Another cinemagoer, Mohammed Muazu, 38, says he used to work with Rapman in a cinema. "They [Vue and Showcase] jumped the gun too quickly … they made a decision and did not even assess the film. For me, I am from this area and grew up here when this was all going on … the message [of the film] is positive.