While the world grapples from the hard hitting blow of the Novel Corona Virus Pandemic that killed and infected dozens of millions of people worldwide forcing lock downs and leaving borders totally shut across countries, technology isn't on the wait and the global market is flaring with up to the minute gadgets aimed at eradicating the disease.
Amongst many other things, mobile-phone falls in the same bucket as one of the items in the world highly known to host dirt such as bacteria since are put on any surface nearer and never left when going anyplace we go.
As a result all the dirt that we come across with our hands end up on our phones and accumulating for years to become the worst habitat of bacteria and viruses.
But however with Alastra the new kid on the block all the worries we've had for decades about bacteria on cellphones are set to go away forever as in just ten minutes it is able to eradicate 99.99 % of the bacteria found on surfaces of your phones.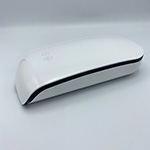 The instrument said to be the only "phone charger" by a consumer report uses UV light to disinfect the mobile phone while it is on the charger.
In a social media post captioned "Have you ever thought about cleaning your phones not just your hands???? Read the following please," the impressive gadget appears with smooth curves in colour white and it's been designed and lovely just like a computer mouse.
Using it is simple as ABC. First you place your phone in the charger known as the Alastra and close the top cover and leave it for about ten to twelve minutes while it goes through a 10-minute run cycle in which UV-C light destroys the bacteria and viruses on the phone.
After a certain time indicators installed on the gadget alerts of the phone in good bacteria free condition as it was the time it was removed from the box. According to experts, "just as in any other circumstance the UV light destroys DNA Found on bacteria and viruses by attacking the nucleic acid. In the ultimate end the small living matter seen only microscopically can't survive anymore.
Although the Alastra charges are meant for phones entirely, other small items known to harbour a bit of dirt can be added to the phone cleansing as well. Objects could include keys for the car and the doors, necklaces, rings personal cards, pens since are used held on fingers and others known much to linger around hands, fingers and dirt.