Wishing International Men's Day – things you did not know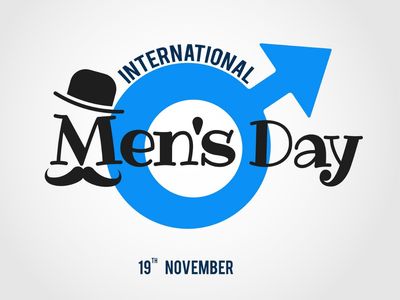 What would be your usual reaction as a man if someone wishes you International Men's Day?
Perhaps, you will be shocked out of your wits. You might not have heard ever that there is a men's day in the calendar which is exclusively dedicated to men.
You are not to be blamed at all for this. We live in a paternal society that tends to compensate for this polarization by celebrating events that are precisely meant for women. But men are left behind in the process.
So, here is a wish for all the men' Happy International Men's Day.'
Now you may be eager to know what is International Men's Day and when is this men's day celebrated. Here are the details.
International Men's Day is an international event that is celebrated across the world on November 19 every year. This project was conceptualized in February 1991 by Thomas Oaster but inaugurated in 1992, February 7.
The event was reinitialized later in 1999 by Dr Jerome Teelucksingh, a doctor from Trinidad and Tabago.
The purpose of celebrating International Men's Day is just the same as that of International Women's Day.
In a nutshell, the day has been reserved for felicitating male role models who have made positive marks in the lives of others, pondering upon male issues and hearing the concerns of males that remain unheard most of the times.
So, it is a day meant for raising awareness about issues men face which affect their sense of wellbeing.
The purpose of this special day is also to raise awareness about the mental conditions of males, their frustrations, trauma and the reasons behind suicidal attempts by men. Basically, it is a day when men deserve to be heard just like women.
Since the purpose behind the celebration of International Men's Day is to spread awareness about all the issues concerning men, it is not necessary to believe that it is a gendered event.
Instead, the agenda of the event is very obvious; it tries to remove all sort of biases and polarizations in providing justice to the victimized, support to the mentally sick and help to the needy irrespective of their gender.
Let us be even clear with the agenda; every law, every rule and every regulation seem to come forward to help women in distress.
On the contrary, there is a vehement lack of this promptness when similar matters concern men.
Therefore, the agenda of this men's day event is to prevent such types of biases and make positive differences in the lives of men.
The distinctive feature of dedicated Men's Day is that it acknowledges a specific theme every year ever since its initialization.
For instance, in 2011, the theme of this event was "Giving Boys The Best Possible Start In Life". In 2012, the theme was "Helping Men and Boys Live Longer, Happier and Healthier Lives." In 2013, "Keeping Men and Boys safe" was chosen as the theme.
Similarly, while in 2019 "Making a Difference for Men and Boys" was the theme, "Better health for Men and Boys" has been acknowledged as the theme for this year.
The countries
This international event for celebrating men's day first started in Trinidad and Tobago in 1999. Jamaica joined the bandwagon in 2001.
Australians started celebrating International Men's Day from 2003. Again, the event is celebrated in India since 2007.
By
Apara Bhattacharya