Noise, Book Review
Imagine a situation, if two judges give different judgments on the same case and two doctors giving entirely different treatment procedures to the patient with identical health condition, what we do. This wonderful book explores the 'HUMAN FLAW' with authoritative case studies. Beyond highlighting the problem, it also offers solutions. Written by 3-eminent scholars whose expertise ranges from psychology, legal and academic professor, this book succinctly narrates the 'hidden problems' and gives practical remedies. This grippingly narrated book is highly recommended reading for everyone. And to understand how we take biased decisions, we must read it.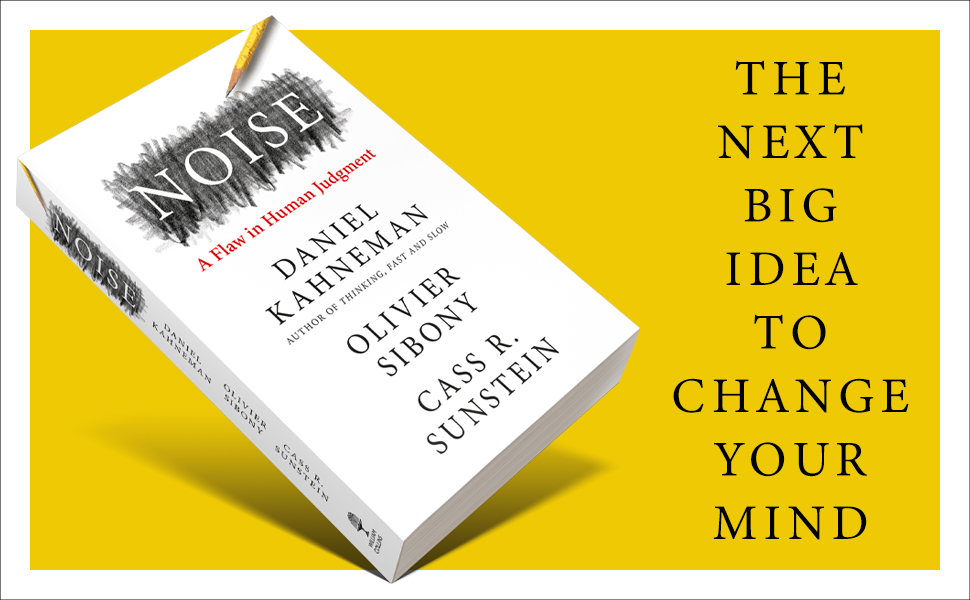 The Sunday Times bestseller (May 2021)
'A tour de force of scholarship and clear writing'
New York Times
'This is a monumental, gripping book. It is also bracing … The three authors have transformed the way we think about the world. They have looked beneath and beyond the way we make decisions and organise our lives. A follow-up of sorts to Thinking, Fast and Slow, it is a further step down the road towards a more complex and realistic grasp of human affairs that is replacing the crude simplifications of the recent past. Outstanding'
Sunday Times
'As you'd expect from its authors, it is a rigorous approach to an important topic… There's lots to surprise and entertain. Anyone who has found the literature on cognitive biases important will find this a valuable addition to their knowledge'
Danny Finkelstein, The Times
'Noise is everywhere and is seriously disruptive. The authors have come up with a bold solution. The book is a satisfying journey through a big but not unsolvable problem, with plenty of fascinating case studies along the way. Humans are often bad at making decisions. But we can get better'
- Martha Gill, Evening Standard
'The greatest source of ineffective policies are often not biases, corruption or ill-will, but three "I": Intuition, Ignorance and Inertia. This book masterfully demonstrates why the three "I" are so pervasive, and what we can do to fight them. An essential, eye opening read'
- Esther Duflo, winner of a 2019 Nobel Prize
'In Noise, the authors brilliantly apply their unique and novel insights into the flaws in human judgment to every sphere of human endeavour… Noise is a masterful achievement and a landmark in the field of psychology'
- Philip E. Tetlock, co-author of Superforecasting


'An electrifying exploration of the human mind, this book will permanently change the way we think about the scale and scope of bias'
- David Lammy
About the Author
Daniel Kahneman is an Israeli psychologist and economist notable for his work on the psychology of judgment and decision-making, as well as behavioral economics, for which he was awarded the 2002 Nobel Memorial Prize in Economic Sciences. He is the sole author of the international bestseller Thinking Fast and Slow.
Cass R. Sunstein is an American legal scholar, former White House staffer in Obama's administration, and co-author of the international bestseller Nudge.
Olivier Sibony is a professor, writer and keynote speaker specializing in the quality of strategic thinking and the design of decision processes. He teaches at HEC Paris and is an Associate Fellow at Oxford University.
Daniel Kahneman Olivier Sibony Cass R. Sunstein
Compiled by
Srini
For Instanewsgram
Source: Amazon Book Review Page
Note: To publish this book review, we haven't received any cash or kind from the publishers or from the author. It is solely done based on its merit.