American Gangster – A real-life story of a ruthless gangster and a resolute cop
Rated : R, Genre : Biography, Crime Duration: 157 minutes (2 hours 37 minutes)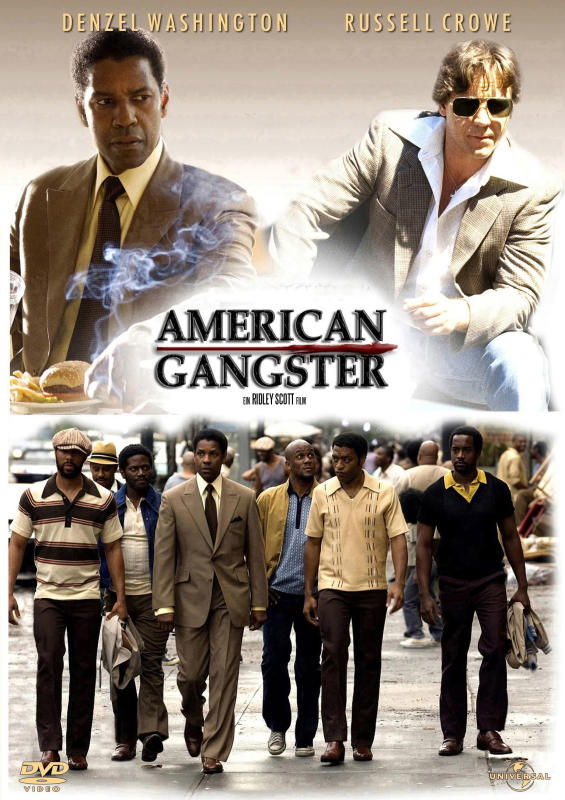 "Finely made and richly satisfying film"
Kenneth Turan
Los Angeles Times
Based on Mark Jacobson's article "The Return of Superfly" and directed by the veteran Ridley Scott, this is a gripping gangster drama.
Set in 60's and 70's America, the story is about a fearsome gangster who ruled New York's drug world and a valiant cop who confronted that drug lord.
Frank Lucas (Denzel Washington) is a protege to 'Bumby' Johnson (Clarence Williams III), a terrifying gangster in New York City's Harlem neighborhood. After his mentor's death, the Blackman Frank Lucas becomes an undisputed gang leader in the city that is mostly dominated by Italian and Irish gangsters. Killing his enemies and loving his family and friends, the suave Frank is a ruthless thug on one side and a loving family man on the other side. When he finds that the superior quality heroin is available in South East Asia, he travels all the way to Asia to meet the original drug makers. Branded as 'Blue Magic', the high quality brand is sold at half-price of the street market with a well-connected, veiled network.
Detective Ritchie Roberts (Russell Crowe), an honest cop, finds that Frank Lucas is the man behind the highly visible 'Blue Magic' drug. Soon, Ritchie shockingly discovers that the drugs are smuggled to America by using the coffins of soldiers who died in Vietnam. At the same time, Ritchie is unable to convince his superiors and the military officials about Frank Lucas' inventive way of drug smuggling. At last, with solid evidence on his hand, Ritchie nabs the gangster and persuades him to accept his misdeeds in the court. On Frank's disclosure, New York Police crack down the drug empire and capture several gangsters as well as dishonest cops who took bribe from Frank Lucas.
Appearing as a ruthless gangster and a steadfast cop, the two lead stars—Denzel Washington and Russell Crowe—deliver a solid performance.
The real Richie Roberts and 'Frank Lucas' were major consultants to director Ridley Scott on the New York set of this film.
While filming on-location in the Chiang Mai province of Thailand, Ridley Scott hired many extras, some of whom were actual participants in the drug-running operation of Frank Lucas.
According to Ridley Scott, this was one of the most grueling shoots of his career; logistically integrating 360 scenes over 180 separate locations.
Unabashedly highlighting the corrupt police officials and their nexus with gangsters, it efficiently captures the rotten part of American system.
Beyond its entertainment value, a good movie should inform and educate the discerning audiences – and this movie precisely fits that description.
by
Srini