Gulliver and Lilliputians - world smallest moving composition
This is a remarkable work of world famous Eduard Ter-Kazarian, the founder of micro-miniature art: the only moving 2 mm figure with other 200 around and on him.
​

In the center of the square the Gulliver is standing with a bottle in his hand. In it he has placed one of the Lilliputians, who is making every effort to jump out of the bottle. The bottle is made of a polished human hair. There is a soldier on the other hand of Gulliver: this one is waving his sword demanding that Gulliver sets free his friend who is in the bottle. Other Lilliputians are trying to climb on Gulliver using ladders and sticks: all in urge to free the "bottled" Lilliputian. Gulliver is moving his head. The figure of Gulliver is 2 mm tall. One can see his eyes, hair, dress with all the details. No one so far was able to understand how the figures move. One explanation is that Maestro has discovered the relationship between magnetic field and gravitation...
​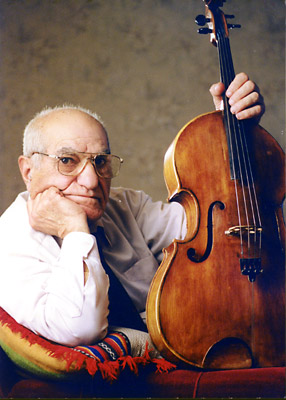 Eduard Ter-Kazarian with famous Viola Pompous (Bach) re-created by Maestro
Maestro Kazarian has many followers, but no one so far was able to recreate his moving figures. The same is true with his other works, e.g. 5 violins of Stradivarius made of wood and installed in a polished human hair -- each violin has all the details of an ordinary one;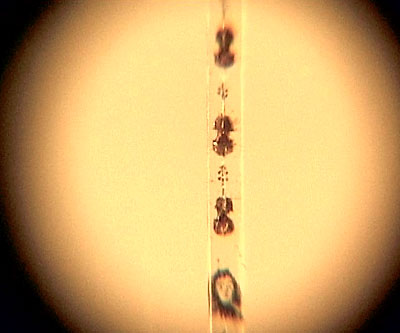 5 real violins made of wood with strings placed in in a polished human hair.
or the seven millimeter violin on which Maestro (a well known musician) has performed (playing only with one finger) with the Philharmonic Orchestra of Armenia -- the bow is a single hair.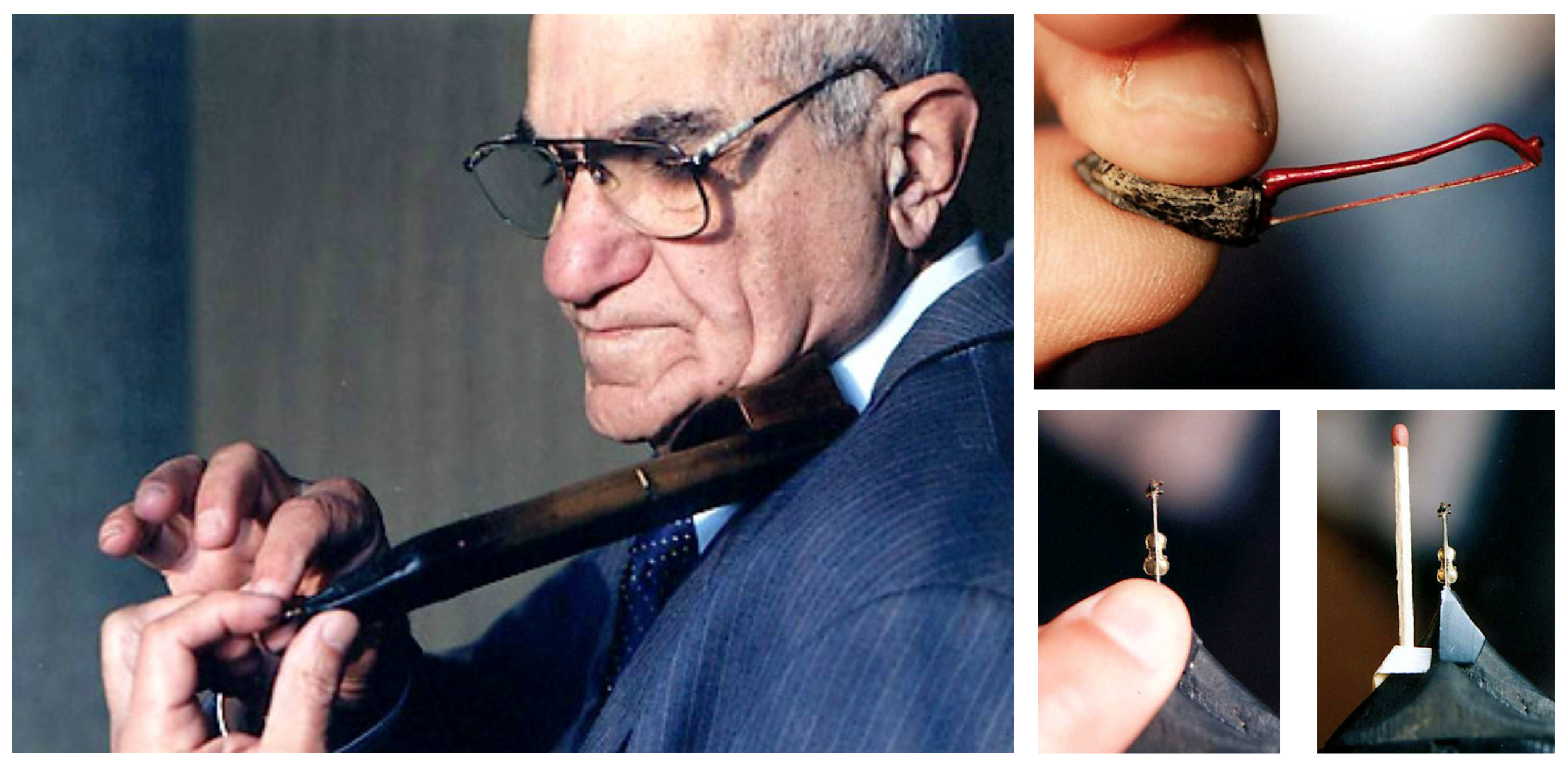 And over 800 other works -- each unique and each a wonder!
​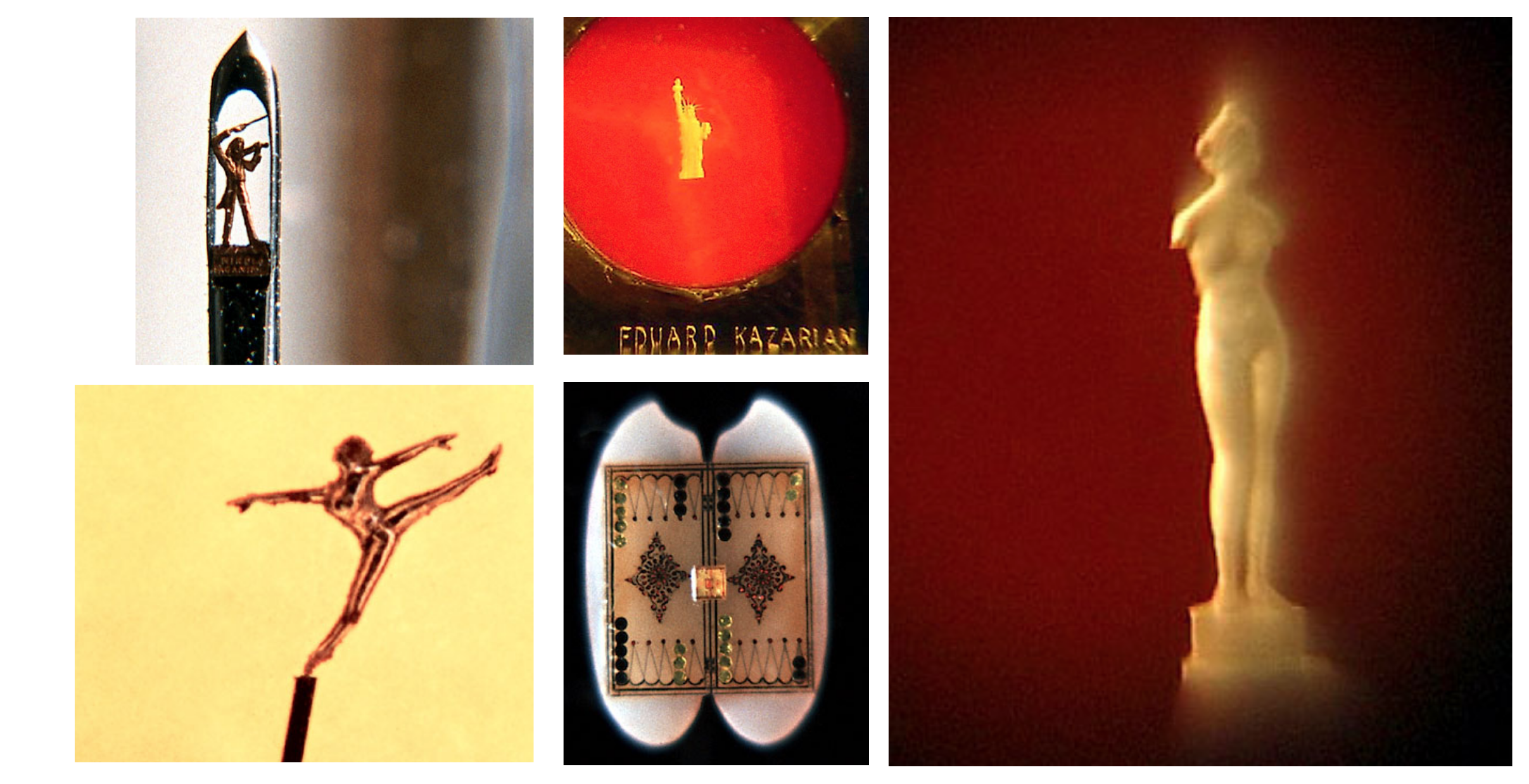 "Paganini" in a eye of a needle, several backgammons (one inside the other) on a cut rice, sculptures of Venus of Milos and Statue of Freedom are made of marble and are thinner than a human hair, the dancer is made of still and place on the tip of a human hair. ​
Once I asked Maestro - "How one needs to live, uncle?". He smiled, as always, and said: "Live well!"
Maestro died at 89 in an accident, the day before he was creating the next wonder and claiming that he knows how one can live more than 300 years...
You can read more about Maestro here: