In work times an excavating machine is one big handy tool in easily operating heavy duty tasks by humans. In some areas it is referred to as a Power Shovel in the sense that it generates its own power in the main deck to engage the shovel in intended activity.
Entirely made of steel and equipped with hydraulics which is pressurised liquid power, excavators have been trustworthy in big task demanding moments that may involve moving and loading of earth, removal of debris, excavating and other duties that needs exerting lots of pressures and force.
But however with the Humpback Whale that was washed ashore, relocating it back to the waters was a big of a deal this time with the shovel.

It appears a vast bodied Humpback Whale have been found washed in a certain unnamed shoreline.
In a live video that emerged on social media network Face-Book the enormous beast sized water animal is laid to the ground seemingly dead.
Astonished witnessed couldn't resist crowding around as camera men as well took photos of the beast while an excavator struggled moving it to the water as bulky as it was.
To its tail it had robes tied to two cruise ships in the water assisting the so called power shovel carry the load back to where it belonged 'in the waters'.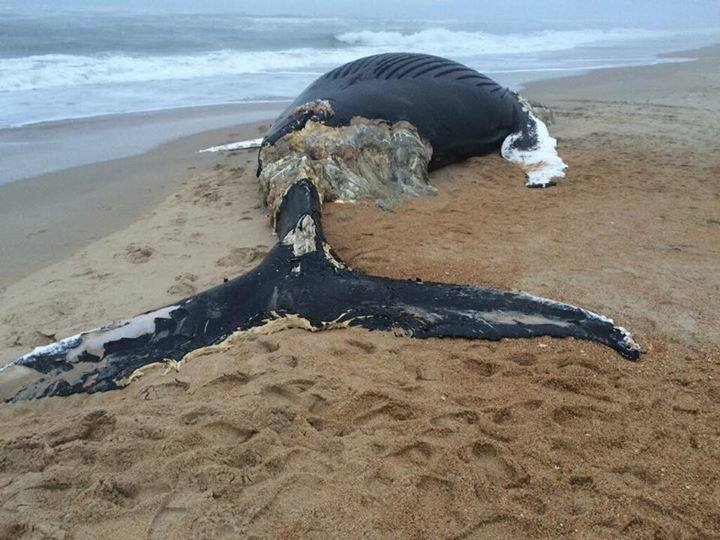 In all the countable attempts to carry the sizeable sea animal the witnessing crowd of people cried scared the animal would be churned into something else and eventually die as some had hopes it had the last breath because of the tail which kept shaking as it laid dead on beach soil.
FACEBOOK REACTION
The happening inevitably set the comment section of Facebook on fire with people crying sad for the animal where as some were amazed of how big the creature looked and wrote " wow", "look how big" and some went as "its amazing".